Welcome to the Aquarbe website
Aquarbe is a company in the environment sector that manages the complete water cycle: catchment, drinking water treatment, transportation and distribution. It is present in Cantabria, the Basque Country, La Rioja and Navarre, where it serves the inhabitants of over 25 municipalities and ensures water quality for human consumption.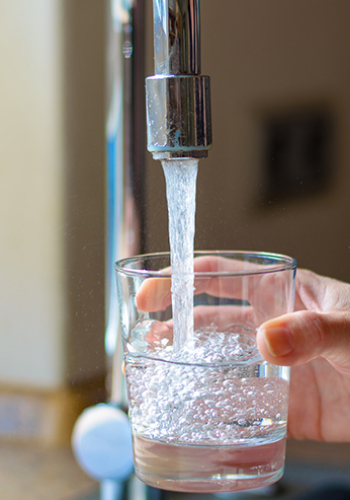 The route water travels from its natural state to the complex social use we make of it is a long one. At Aquarbe, we ensure correct management of water from the start. Our goal is to make profound respect for the environment compatible with supplying water in perfect condition for daily use by all members of society.
Sustainable management enables us to offer our customers a service commitment based on quality assurance and care for the environment, founded on continuous research and a firm investment in technological innovation.
We guarantee a quality service, through innovation and research

In addition, Aquarbe promotes education and awareness for responsible water use, thus contributing to a future society that is more caring of its environment, maintaining a firm commitment to the planet and society.
Transparency in management and care of the public, as well as efficiency, sustainability and social responsibility, are the pillars of our management model, which is reflected in our mission, vision and values.
Vision

To be leaders in water cycle management.
To become a leading company in the application of technologically innovative solutions in the water sector, always with the goal of maximum efficiency.
To provide the best services to gain a reputation as an efficient and competent company that is committed to the environment and the various social realities in the city. To achieve greater stakeholder satisfaction every year.
Mission

To manage water with the maximum guarantee of efficiency to improve the quality of life of people and sustainability of the environment..
To transmit our accumulated knowledge and experience to society, generating value for our customers.
To plan and develop our business to help achieve the Sustainable Development Goals (SDGs).
Values

Excellence in the provision of services.
Professionalism and transparency among our staff and chain of suppliers.
Professionalism and transparency among our staff and chain of suppliers.
Sustainability focused on people's well-being, with consideration for economic, social and environmental factors.
Contribution to educational, social, and cultural development.
Occupational health and safety as the maximum priority in each and every one of our activities.
We want this website to provide our clients with a window of information to learn about all these aspects, making transparency, support and simple transactions a daily reality and not a future goal.